Wow wow wow! It's been a while since my last post, which felt like a decade since I last wrote. I took a break from blogging for a while to help rejuvenate and now I'm back and ready to share!!!!
So it seems that the

palm prints

are actually BACK and TRENDING! It's a trend from the late 1930's that keeps cycling back every few years. Here's a little history lesson, it all started with Dorothy Draper. She was one of the few that birthed interior decor. The first noted appearance of the leaf print was designed for the California Arrowhead Springs Hotel. After Draper's first success of the leaf print, Don Loper went on to challenge Draper and designed one of the most iconic wallpaper print - the Martinique (which you'll see below). Once again, the
palm prints
are
everywhere!!! They're back in retail stores, shoe store such as ALDO, on phone cases, mugs, swimwear and the list goes on. I'm even quite sure that there are
palm print
undergarments :O I haven't personally seen any but give me a shout out if you have!
I've gathered my favorite botanical prints of home décor that I'd love to share with you all!!!!
First, off we have the Bree Madden For Deny Tropics Duvet cover that can be purchased directly from Deny or from Urban Outfitters. I love this
palm print
in particular because of its sunset color palette. It makes me feel like I'm in the tropics… hahah they all do but this sends me away to a beachfront Jacuzzi suite on the white sands of Costa Rica.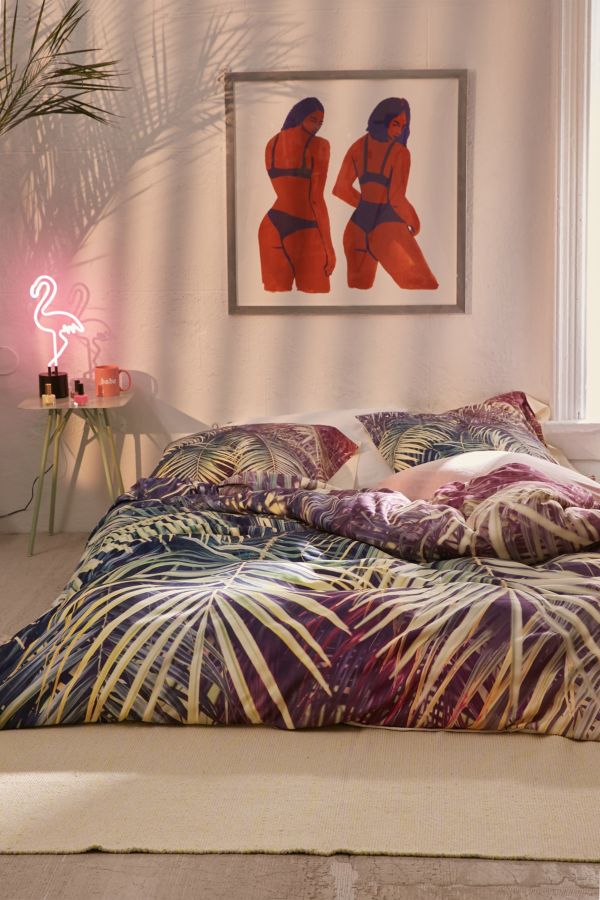 The second

palm print

duvet cover is also from Urban Outfitters but this one has a mix medium paint effect. It's fresh, clean and works well in a minimalistic bedroom.
Now, let's get to the "good stuff"; wallpaper or shall we say wallcovering for design sake.
First off, I could not believe but Maison Simons now supplies wallcovering. This

banana palm print

Tropical Foliage wallpaper is exotic and unique. It's made in Canada (BONUS POINTS) and has been manufactured with an eco-friendly prepasted paper. It's very affordable at $99 CAD per roll.
Second, we have the Fanned Fronds Wallpaper from Anthropologie. Although I'm not a big fan of this tone of green, this

palm print

DOES make a statement!!!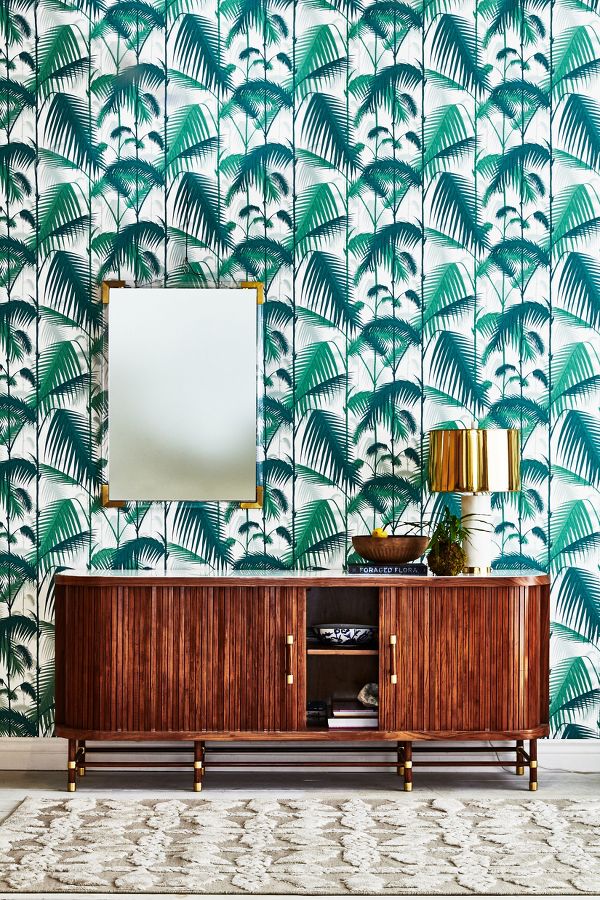 Here's one of my favorites: the Honolulu Palm GreenWallpaper
from Graham & Brown. It has a beautiful saturated style and yet in person, this wallcovering has a soft glittery effect.
Obviously, I could not end this post without sharing one of the most iconic

palm prints

wallcovering of Beverly Hills. Martinique, designed by Don Loper has made its way in the most famous homes, hotels and resorts and still remain the top

palm print

of the era. If you're in Canada, you can purchase this wallcovering at Theo Décor through a designer only. It's supplied by Donghia/Hinson.
For all my designer friends, here are my top two

palm print

textiles: the first, Jungle by Pepe Peñalver and the second, Duca from Brochier. They both have a high rub count and can work well as upholstery, drapery, wallcovering, and décor.
I didn't want to give out all the
palm print
goodies in just one post so you'll have to stay tuned to see the trend in interior spaces. :)
I'm a secret fan of
palm prints
but I know it's been overused. How do you feel about this trend? Yeah or NAH?